最新通知 Latest Update
VBS 2022 暑期儿童圣经夏令营 2022 (8/2-8/6)
Chinese Christian Mission Church (CCMC)
Vacation Bible School & Adventure Camp

Please click here for more info.
2022 北卡华人福音基督教會秋季退修會 CCMC Fall Retreat 9/3-5
地址 Address:Ridgecrest Conference Center, 1 Ridgecrest Drive, Black Mountain, NC 28711
主題 Theme:「作主門徒」Discipleship to The Lord
中文講員: 劉傳章牧师Rev. Jonathan Liu,English Speaker: Ivan Yu
請下載並填寫2022秋季退修會報名登記表
Please download and fill 2022 CCMC Fall Retreat registration form.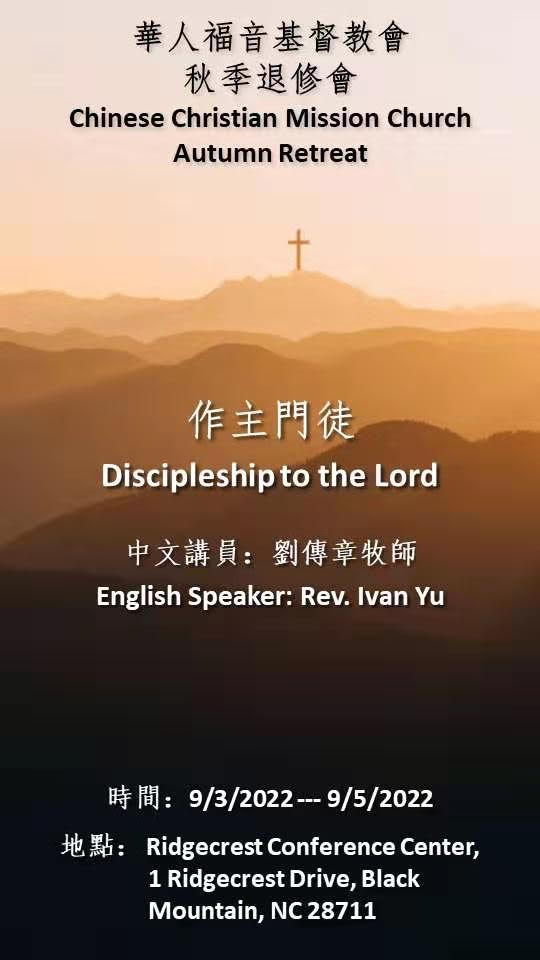 關於新冠病毒最新通知 Latest Update Regarding COVID-19
教會的實體主日敬拜現在已經全面開放給各個年齡層。聚會期間會保持疾控中心建議的社交距離,並全程配戴口罩。鼓勵和歡迎弟兄姊妹根據自己的情況來教會參加主日晨禱、主日崇拜和主日學。主日學後,在戶外,會有簡便午餐,供弟兄姊妹領用。
Church is now fully open for all ages to attend the physical Sunday Worship and Sunday Schools. Social Distancing is followed according to CDC recommendation, and face mask is required all time for the Sunday worship service and Sunday schools. All brothers and sisters are welcomed and encouraged to attend the Sunday Worship and Sunday Schools at church if your situation permits. A simple lunch will be provided to brothers and sister after Sunday school classes。

主日晨禱、主日崇拜和主日學暫時還會在網上直播。不方便來教會參加實體聚會的弟兄姊妹,還是可以加入網上的直播。
At the meantime, Sunday morning prayer meeting, Sunday worship service and Sunday wills till be made available for those who cannot join the physical meeting at church to join the live streaming online。

週間的星期三禱告會、小組團契查經聚會,還會保留在線上聚會。弟兄姊妹可以使用教會提供的網絡會議平台網上參加。
All weekly Wednesday night prayer meeting, small group bible study and fellowship meetings are still proceeded online via churched-provided online meeting links。
疫情期間的在線奉獻方法 Online Donation Instructions
疫情期間的建議
建議弟兄姐妹採用以下的一些預防措施,以減少疾病在教會的傳播。
All brothers and sisters are reminded to take the following steps to reduce the transmission of communicable diseases in the church.
生病期間留在家中。
Stay home when you are sick - no matter how light your symptoms are.

用溫肥皂水勤洗手,每次至少20秒鐘;在無法洗手的情況下,用含酒精成分70%以上的洗手液擦手。
Wash your hands frequently with warm, soapy water for at least 20 seconds. If not possible, use hand sanitizer with at least 70% alcohol content.

避免用手摸臉,鼻子和眼睛。
Avoid touching your face, nose, and eyes with hands.

打噴嚏時,使用紙巾紙遮住嘴巴,然後把用過的紙巾立刻丟到垃圾桶裡。
Cover your mouth with tissues whenever you sneeze, and discard used tissues in the trash immediately.

避免和有呼吸道病症的人接觸。
Avoid people who are sick with respiratory symptoms.

經常清潔被人觸摸碰過的地方。
Frequently clean surfaces that are touched.

弟兄姐妹和朋友在教會和小組聚會中,若覺得有需要,可以戴口罩。座位儘量保持一定的距離,最好隔行坐。
You can wear the face masks if you feel necessary during the church and group gatherings. If possible, keep a distance of 5-6 feet between seats, or sit in every other row.

用揮手方式打招呼,避免握手或擁抱問安。
Use hand waves to greet each other and avoid handshakes or hugs.

高危人羣和老人應該留在家中,避免參加任何人多的聚會。可以參考美國疾病防控中心的建議。
High-risk groups and Elderly should stay home and avoid any large gatherings per CDC's recommendation.

疫情爆發時,鼓勵儘可能採用遠程電話視頻會議來聚會,避免面對面的聚會。
Encourage the use of telephone and video conferencing instead of face-to-face meetings as much as possible if and when there is an outbreak.

若弟兄姐妹和朋友剛從中國大陸回美,或有接觸過疑似病人,或自己有相關症狀的,建議兩禮拜內暫不參加聚會。
If you have recently returned from China or have been in" contact with anyone or if you are exhibiting the symptoms, please refrain from attending any church gatherings for at least two weeks.
請為繼續中國,美國和其他疫情爆發國家的防疫工作禱告,為所有的病人和醫務工作者禱告。求神憐憫施恩,阻止疫情。也願人謙卑迴轉,歸向獨一真神。
Please continue to pray for the epidemic prevention work in China, the US and other outbreak countries, the patients and the medical workers. Pray for God's mercy to stop the outbreak, and lead people turn back to Him.
願教會有從神來的平安和喜樂。神祝福大家。
May God's peace and joy be with His church. God Bless!
CCMC 執事會
CCMC Deacon Board
2020/03/11 (最新更新Last update: 2020/03/14)
歡迎你來
歡迎你來到美麗的杜克大學和三角研究區。也歡迎你來瞭解我們的教會和我們的信仰。
我們是一羣在杜克大學 Duke University、北卡教堂山大學 University of North Carolina at Chapel Hill 和三角研究區 Research Triangle Park 學習工作的華人基督徒,大家互相扶持幫助,一起探討人生真正的意義,學習以一顆喜樂的心來渡過緊張的生活。
我們華人福音基督教會 Chinese Christian Mission Church 希望您來參加我們教會每個禮拜天早上的崇拜和主日學,每個禮拜五或禮拜六晚上的團契聚會和各樣其他的活動。此外,也請關注近期活動通知。
時間安排
活動
時間
教會禱告會
Church Prayer Meeting
禮拜三 7:30pm – 9:30pm
Wednesday 7:30pm – 9:30pm
主日晨禱
Sunday Morning Prayer Meeting
禮拜日 9:30am – 9:55am
Sunday 9:00am – 9:45am
主日崇拜 (國語)
Mandarin Sunday Worship
禮拜日 上午10:00 - 11:15am
Sunday 10:00 – 11:15am
成人主日學
Adult Sunday School
禮拜日 上午11:30 - 12:30pm
Sunday 11:30 – 12:30pm
主日崇拜 (英文)
English Sunday Worship
禮拜日 上午10:00 - 11:15am
Sunday 10:00 – 11:15am
英文主日學
English Sunday School
禮拜日 上午11:30 - 12:30pm
Sunday 11:30 – 12:30pm
主日崇拜 (兒童)
Children Sunday Worship
禮拜日 上午10:00 - 11:15am
Sunday 10:00 – 11:15am
兒童主日學
Children Sunday School
禮拜日 上午 11:30 – 12:30pm
Sunday 11:30 – 12:30pm
主日愛宴
Sunday Lunch
禮拜日 中午12:30 - 1:30pm
Sunday 12:30 – 1:30pm